Page 14 - SS_2019-Product-Catalog
P. 14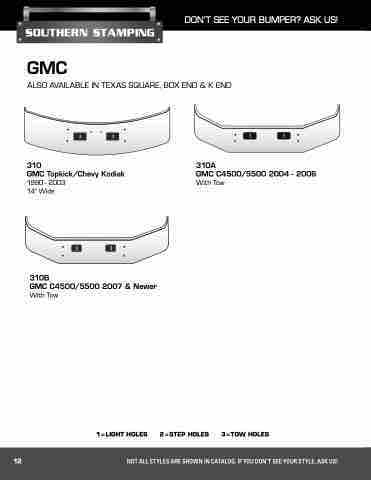 DON'T SEE YOUR BUMPER? ASK US!
GMC
ALSO AVAILABLE IN TEXAS SQUARE, BOX END & K END
                  310
GMC Topkick/Chevy Kodiak 1990 - 2003
14" Wide
310A
GMC C4500/5500 2004 - 2006 With Tow
          310B
GMC C4500/5500 2007 & Newer With Tow
1=LIGHT HOLES
2=STEP HOLES 3=TOW HOLES
 12 NOT ALL STYLES ARE SHOWN IN CATALOG. IF YOU DON'T SEE YOUR STYLE, ASK US!