Page 46 - SS_2019-Product-Catalog
P. 46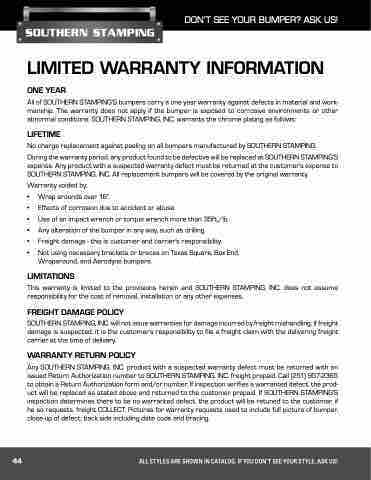 DON'T SEE YOUR BUMPER? ASK US!
LIMITED WARRANTY INFORMATION
ONE YEAR
All of SOUTHERN STAMPING'S bumpers carry a one year warranty against defects in material and work- manship The warranty does not apply if the bumper is exposed to corrosive environments or other abnormal conditions SOUTHERN STAMPING, INC warrants the chrome plating as follows:
LIFETIME
No charge replacement against peeling on all bumpers manufactured by SOUTHERN STAMPING
During the warranty period, any product found to be defective will be replaced at SOUTHERN STAMPING'S expense Any product with a suspected warranty defect must be returned at the customer's expense to SOUTHERN STAMPING, INC All replacement bumpers will be covered by the original warranty
Warranty voided by:
• Wrap arounds over 16"
• Effects of corrosion due to accident or abuse
• Use of an impact wrench or torque wrench more than 35ft /lb
• Any alteration of the bumper in any way, such as drilling
• Freight damage - this is customer and carrier's responsibility
• Not using necessary brackets or braces on Texas Square, Box End, Wraparound, and Aerodyne bumpers
LIMITATIONS
This warranty is limited to the provisions herein and SOUTHERN STAMPING, INC does not assume responsibility for the cost of removal, installation or any other expenses
FREIGHT DAMAGE POLICY
SOUTHERN STAMPING, INC will not issue warranties for damage incurred by freight mishandling If freight damage is suspected, it is the customer's responsibility to file a freight claim with the delivering freight carrier at the time of delivery
WARRANTY RETURN POLICY
Any SOUTHERN STAMPING, INC product with a suspected warranty defect must be returned with an issued Return Authorization number to SOUTHERN STAMPING, INC freight prepaid Call (251) 957-2365 to obtain a Return Authorization form and/or number If inspection verifies a warranted defect, the prod- uct will be replaced as stated above and returned to the customer prepaid If SOUTHERN STAMPING'S inspection determines there to be no warranted defect, the product will be retuned to the customer, if he so requests, freight COLLECT Pictures for warranty requests need to include full picture of bumper, close-up of defect, back side including date code and bracing
 44 ALL STYLES ARE SHOWN IN CATALOG. IF YOU DON'T SEE YOUR STYLE, ASK US!